(Re-)Gaining Ecological Futures Festival ~ MycoPoetics ~ Floating University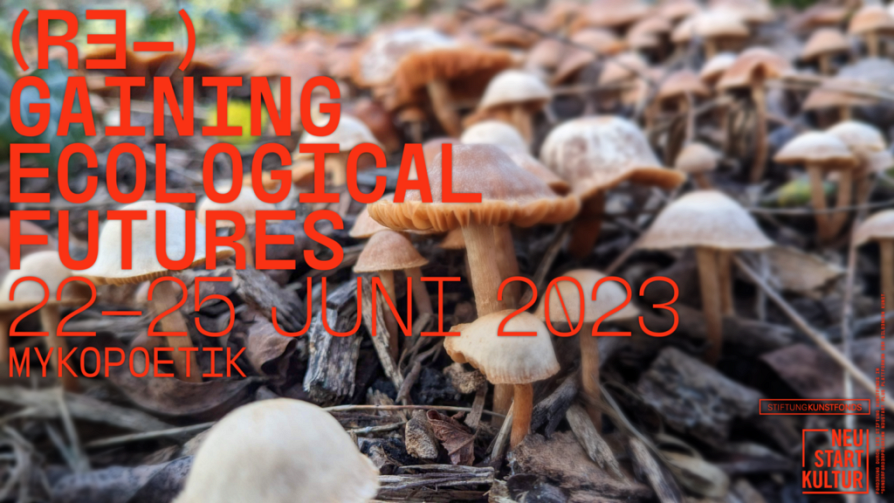 Adaptation: In this workshop, we will explore the medicinal actions of particular fungi to support adaptivity towards resilience, moving beyond normative notions of 'functionality' and health. We will take time to explore how 'stress' appears in the body and mind through somatic practices accessible for all kinds of bodies. We will reflect on how decolonial, queer feminist, and disability justice can inform complex understandings of our bodies as shifting ecologies. The workshop will look at stress as a feedback mechanism, potentially offering a doorway into communication on personal, social, and environmental dimensions. It will offer tools to connect with the immune and nervous systems as multi-faceted networks within us, similar to those of mycelium in the land. Through embodied practices and intersectional thinking, this workshop will expand our understandings of adaptation as ongoing processes taking place within the mycelial webs of the soil and within our physical and social realities.
June 22, 2023 10:00 – 13:00 at Floating University
From Berit Fischer, Curator:
(Re-)Gaining Ecological Futures is a socio-ecological festival that critically engages with the human-centred ontology and the dualism between nature and culture.
It offers affective encounters and collective engagements that holistically question how we can change our relation to the natural world towards ecological mindfulness. how to create new synthesis in our technocratic times for a more inclusive and 'cosmo-logical' knowing? The festival shares proposals to reflect and act on how we contribute to shaping and nurturing ecological inter-relations and inter-actions in regenerative ways.
In this year's edition the focus is on MYCOPOETICS, to illuminate the complex world of the mycelium that is omnipresent in every ecosystem on this planet. The Mycelium could be seen as the ultimate organic network; the epitome of "symbiocene". The mycological communities elude standardised hierarchical knowledge production and a homogeneous understanding of the world. Their way of life defies capitalist logics, mechanisms and logics of binarity and control.
For four days, we invite to explore and immerse yourself with body and mind in artistic, practical and scientific ways, into some aspects of the immense complexities of the mycelial world. How can we overcome human-centred unilateral and binary thinking? How and what might we learn from the cross-species fungi superorganisms to compost the toxins of the Anthropocene?