With and from Jared Gradinger, Angela Schubot, Alm Gnista, Shelley Etkin, and Stefan Rusconi
Moving in November Festival Helsinki, 3-13 November, 2022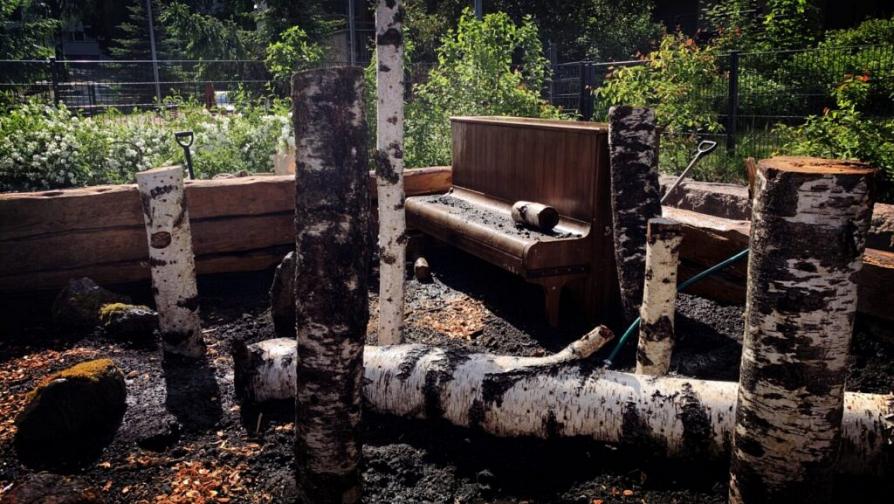 The fungi hut is a co-created living being, dedicated to the queendom of fungi which now resides in the wooden structures of the hut, the logs, the piano as well as the soil. The hut has traveled through Finland, from Pomarkku to Tammisaari, during a process of regenerative practices. The fungi are both invited and inoculated, as well as wild-grown. In June 2022 the hut was placed in the Stoa square, and a mushroom garden was grown with the intention to offer the fungi a space to thrive. The garden installation was then transformed into a space open to the public for various forms of encounters. The Hut is an invitation to witness life forms unfolding in ways that we stand alongside, acknowledging unseen processes happening on other timescales.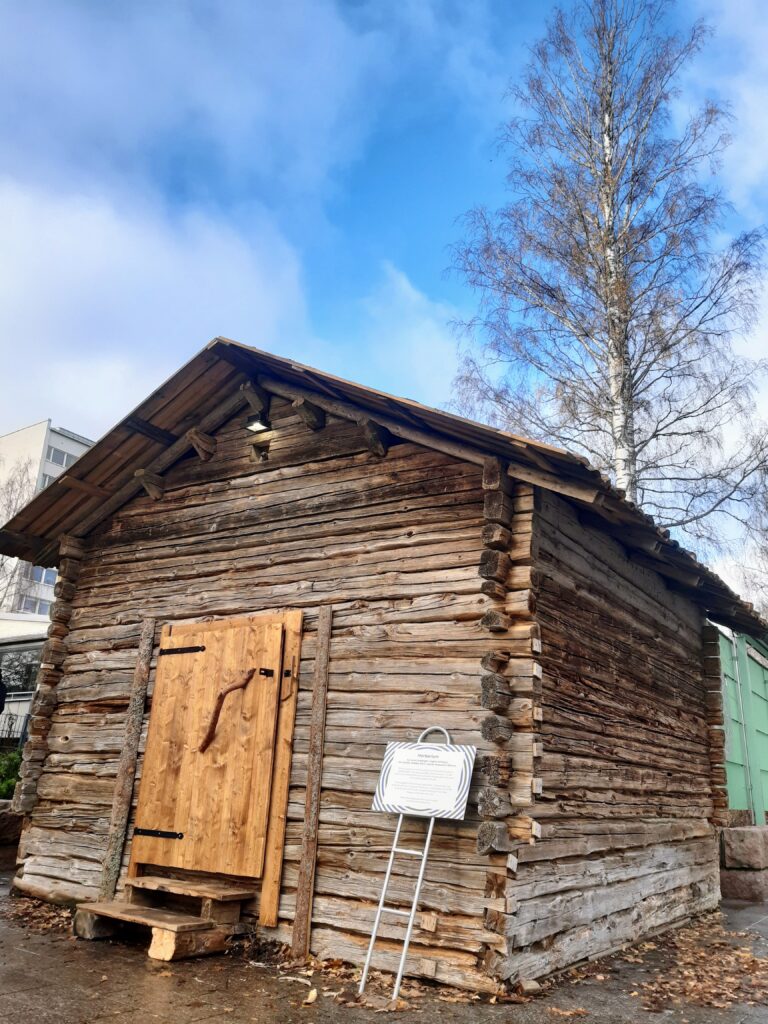 During the course of the 2022 Moving in November dance festival, the fungi hut hosted various offers from the team of human and nonhuman collaborators. Together they experiment with ways of living in the symbiocene infused with life; fungi, human presences, and regenerative practices. Jared Gradinger and Angela Schubot offer a durational performance of embodied and musical mushroom encounters in collaboration with Stefan Rusconi who plays the hut as a hybrid instrument, together with fungi, soil, robot arms, human listening, and prepared piano. They are joined by long-term ally Shelley Etkin, who leans towards the voices beyond language, tracking articulations that have emerged through communicative processes. The Hut is one element in the Herbarium project.
Read a conversation between the members of the artistic group and curator of the festival, Kerstin Schroth.
Instant reflection by Nina Vurdelja.
In Co-Creation with: The soil, The moisture, The fungi (inoculated: Turkey tail, Reishi, Birch Polypore, The Hoof Fungus, The Coral Tooth fungus, The Bitter Oyster and others), The moss, The lichen, The stones, The plants, The pine, The spruce, The birch, The glow in the dark, The underground, The unseen
Production Assistant: Riikka Lakea
Produced by: Schubot/Gradinger in close collaboration with Moving in November
Supported by: Konstsamfundet, Herbarium-project is supported by Goethe Institut Finnland
Special thanks to: Javier Mansilla, Laetitia Cañete, Görkem Yücesoy, Aune Kallinen, Maija Michelsson, Kaba Assefa, Lorin von Longo-Liebenstein, Joette Crosier
Visit in collaboration: Stoa
Thank you: Metsäpirtin multa