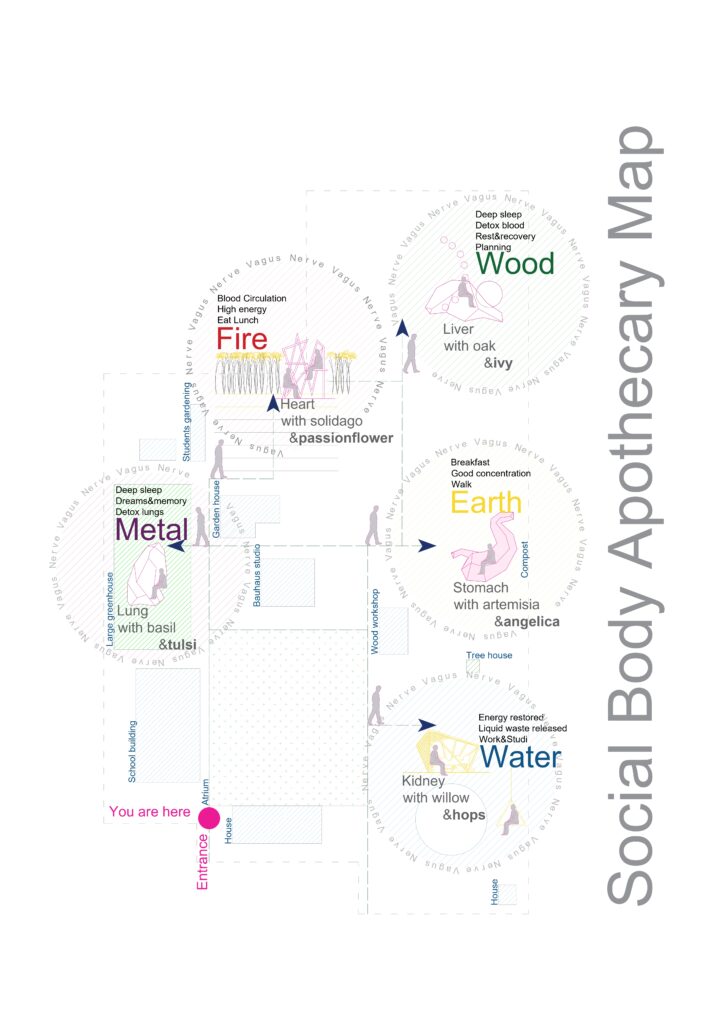 The Social Body Apothecary works with body as garden and garden as body, layering these to study their relations within the socio-ecological context of the Nachbarschaftscampus. Mapping the entire site through choreographic and cartographic thinking, the process locates particular areas as organ centers which will be partnered with local medicinal plants. Each are configured into a sculptural unit that can be inhabited as spaces for embodied dwelling with the plants and with the qualities of each organ center. The nervous system weaves into and among each of these organ centers, allied with adaptogenic plants. Adaptogens are said to have a regulating effect and support the body's ability to adapt. The wandering nerve as a mobile herbal clinic serves as a meandering space for collective remedy-making. The Social Body Apothecary emerges as a physical garden, a social choreography, a community educational platform, and health resourcing space. This transdisciplinary project draws upon knowledges from fields such as Chinese Medicine, Body Mind Centering®️, embryology, herbalism, homeopathy, eco/somatic and embodiment methods, architecture, sculpture, botany and more. The Social Body Apothecary is a space for exchange of embodied practices, creative healing, and interactive learning towards collective health.
Initiators: Kitti Zsika, Shelley Etkin, Siegmar Zacharias
Collaborators: Paule Potulski, Lilja Waehneldt, Jan Stricker, Andries de Lange, Gabriel Nyanakyi, Konstructlab Berlin
Located at the Nachbarschaftscampus / Berlin Mondiale
Funded by: Urbane Praxis, Fonds Darstellender Künste, Neustart Kultur
Personal artistic research towards development of the project supported as a 2020-2021 recipient of the Tanzpraxis Stipend from the Berlin Senate Department of Culture.
Die Sozialkörper-Apotheke arbeitet mit dem Körper als Garten und dem Garten als Körper und erkundet ihre Beziehungen innerhalb des sozio-ökologischen Kontextes des Nachbarschaftscampus.
Seit Sommer 2021 haben Shelley Etkin, Kitti Acosta-Zsiga und Siegmar Zacharias, in Zusammenarbeit mit dem Campus Dammweg und Mitteln der Urbanen Praxis daran gearbeitet Prozesse und Situationen zu entwickeln, die künstlerische Forschung und Praxis, Arbeit mit Pflanzen und Erde, und sozio-kulturellen Austausch ermöglichen. Die Nachbarn des Nachbarschaftscampus sind vor allem Menschen mit Migrationshintergrund, Migrant*innen und Geflüchtete.
Das Projekt wird aus dem Prozessförderung des Fonds Darstellende Kunst unterstützt, Urbane Praxis, und Neustart Kultur.
Meine künstlerische Recherche zur Entstehung dieses Projektes wurde durch das 2020-2021 Tanzpraxis Stipendium des Berlin Senatsverwaltung für Kultur und Europa gefördert.