Fratz Festival Symposium 2019, 2021 Atelier Curated by Theatre o.N.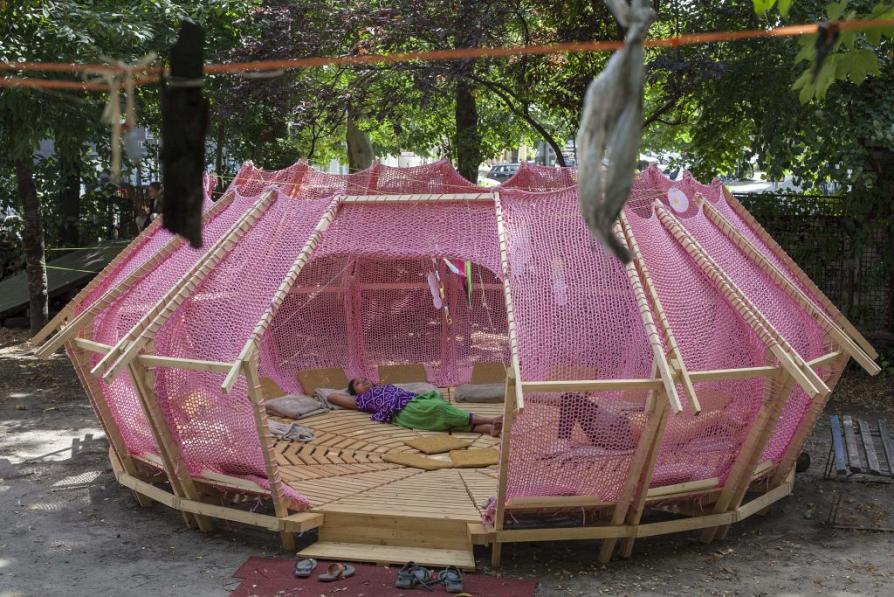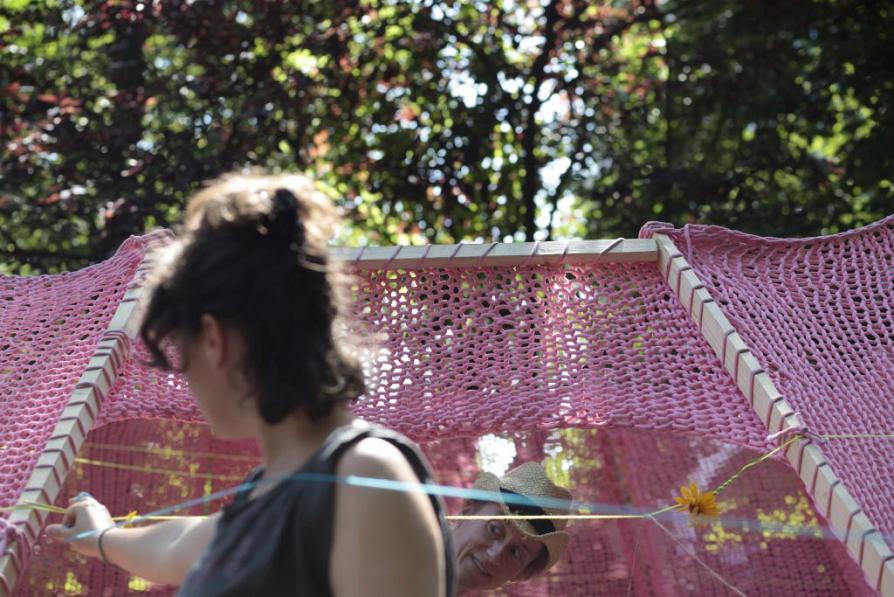 Above pictures by Ludger Storcks
FRATZ Reflections 2020 to read 'Landing at the Intersections'
2021: "Landing-Nesting"  invites children with recent migration experiences who live in the community shelter Straßburger Straße to the neighboring Bauspielplatz in Kollwitzstraße 37 – an autonomous space for children to build, play and be together.explores how to creatively engage with the design of places. The starting point is the migratory movements and habits of birds. We invite a group of children ages 8-12 years old to collectively build a temporary environment that we weave and inhabit together. How can this process of creating and inhabiting a place together make visible our multiple relationships to home, migration, and living together? In an interdisciplinary working group, we will explore how our (adult) offerings can correspond to children's imaginations and thought worlds, and open ourselves to their curiosity and needs. What kind of habitat could we build together and how can this process playfully deconstruct claims to ownership and territory? What dreams do we have in relation to this place and in relation to the places in our lives?
Concept: Shelley Etkin
Sculpture: Yoav Admoni, Layla Klinger
Participating artists: Marina Hulzenga, Parvathi Ramanathan, Nicola van Straaten
Dramaturgical support: Doreen Markert
Photo/Video Documentation: Ludger Storcks
Pedagogical support: Lydia Baldwin
Technical support / organization: Cathy Walsch
Cooperation partners: Theater o.N., Adventure Bauspielplatz Kolle 37, Gemeinschaftsunterkunft Straßburger Straße (Hero Zukunft GmbH)
Supported by: TANZPAKT Stadt-Land-Bund with funds from the Federal Government Commissioner for Culture and the Media and co-financed with funds from the State of Berlin – Senate Department for Culture and Europe.
~~~
FRATZ Reflections 2019 to read thoughts on nesting: resonance is relationship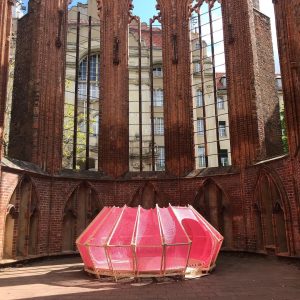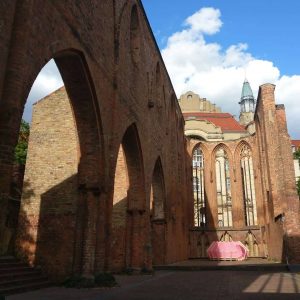 2019: Nesting offers an environment to journey into internal landscapes. A nest-like structure will inhabit the remaining ruins of the Franziskaner Klosterkirche, hidden in plain sight in the centre of Berlin. A curious space that evokes the imagination through sounds and sensations. Seemingly a basket, cave, womb, nest, or spaceship where one may be lulled into lucid dreaming. In the exchange between outer perceptions and inner experience, Nesting proposes a temporary ground to imaginatively experience oneself as being part of land.
One of the starting points to develop Nesting has been landing; a body of artistic research by Shelley Etkin. Rather than a notion of land as bordered territory, the work approaches the associated verb, landing, as a process of arriving into body and place through journeying. For this, Shelley works with imaginative somatic journeying as a method. The »landing sessions« explore a range of aspects including colonialism and migration, healing, felt knowing, and communication through embodied practice. Nesting has drawn inspiration from this research and through the collaborative framework of the FRATZ Atelier will open space to experiment with related questions in other formations.
For children 3 years and up.
Concept: Shelley Etkin
Sculpture: Yoav Admoni, Layla Klinger
Research & Presence/Performance: Iduna Hegen, Shelley Etkin
Dramaturgical Support: Doreen Markert
Musical counseling: Christiane Hommelsheim, Hilà Lahav
With friendly support by Ponderosa e.V. – Artist Residency in Lunow-Stolzenhagen, Brandenburg and Franziskaner Klosterkirche (Department of Art and Culture, Bezirksamt Mitte von Berlin).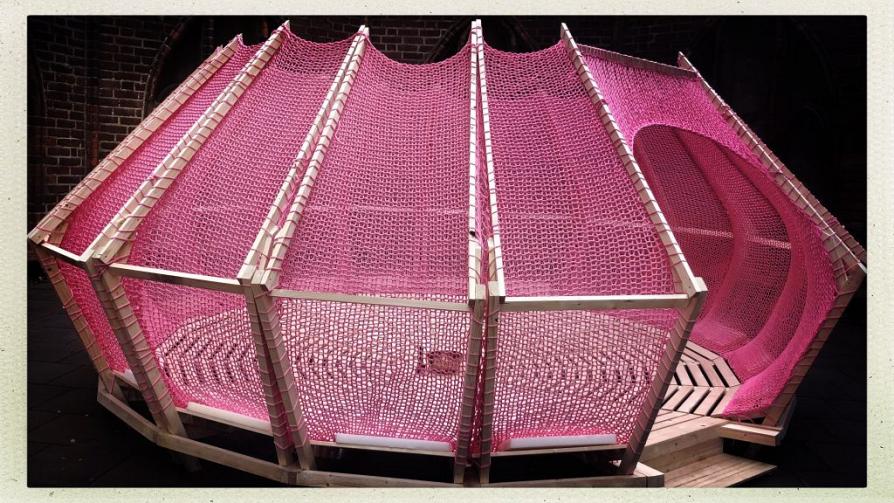 Mindflow diagram design by Doreen Markert, inspired by Carolina Caycedo – "Fair Energy Transition"